Cypripedium hybrids are vigorous
Frosch® Cypripedium hybrids show growth rates which are much faster than of species. And all this without special care! Only regular fertilization in spring is decisive. See below how clumps of Ventricosum, Ursel and Ventricosum Pastel enlarge in little time.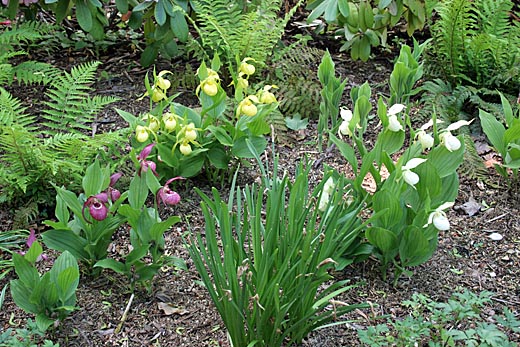 After only two years: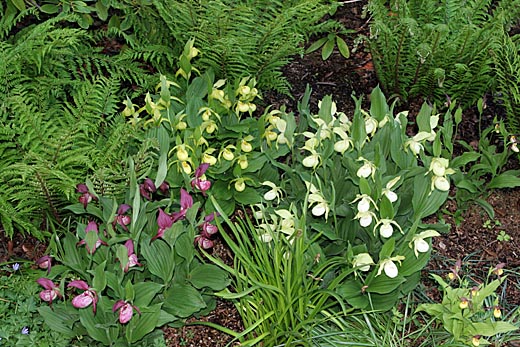 Another year later: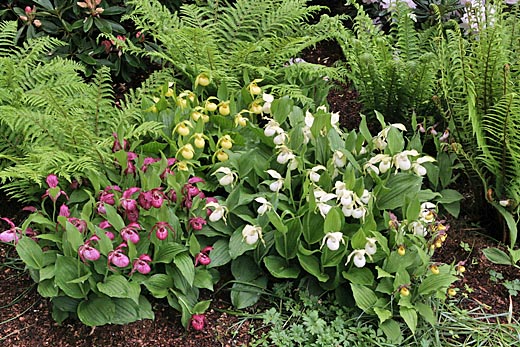 ---
Another example: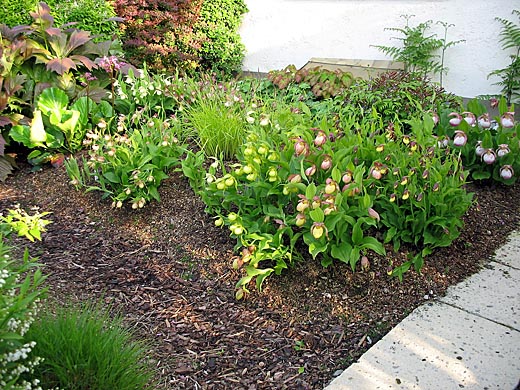 Two years later: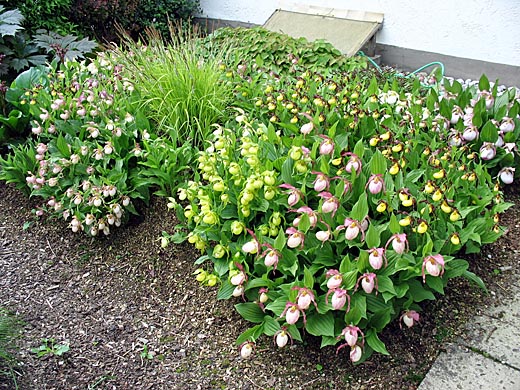 ---
Harry Jans from the Netherlands cultivates successfully Cypripedium Michael in his garden. 20 flowering shoots (mostly with twin flowers) after only 6 years.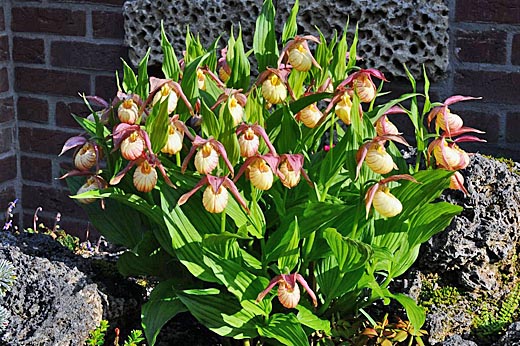 ---
Three single-shooted Cypripedium Gisela were planted in this garden and see what developed after only a few years: 25 flowers after only 5 years.
See below for the result after another few years passed. The clumps had been divided and planted at a different spot. 152 flowers after 8 years!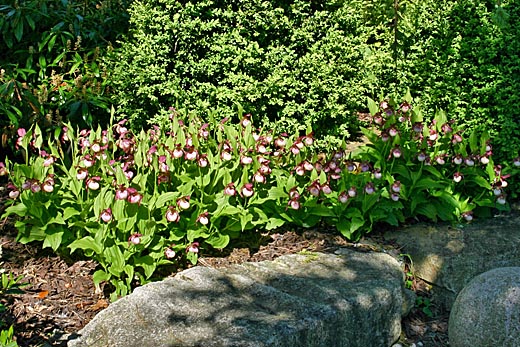 ---
In a different garden five single-shoot rhizomes each of Cypripedium Emil (foreground) and Ingrid (background) were planted. After a few years, impressive groups developed: Cypripedium Ingrid with 30 flowering shoots (8 with twin flowers) and Cypripedium Emil with 23 flowering shoots (4 with twin flowers) after only 3 years.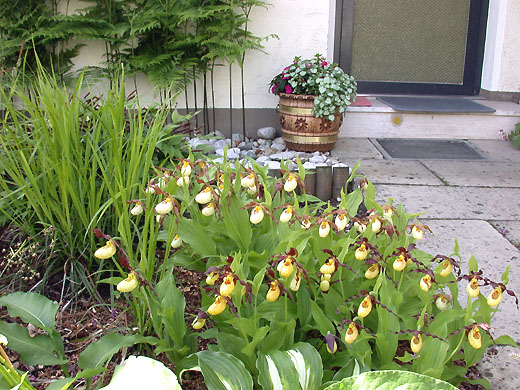 ---
It is also possible to grow Cypripedium hybrids successfully in pots. Anthony Darby from Scotland wrote me in spring 2007: "Here is a picture of Cypripedium Sabine, which won first prize in the Hardy Orchid class of the Perth show of the Scottish Rock Garden Club last Saturday. I got it in 2001 as a seedling and last year it flowered for the first time (two flowers)."
And spring 2010 he added: "The same plant, in the same pot and in the same place on my patio has 9 flowers this year. This plant experienced -18°C with no protection for the pot."
Again Anthony Darby: "Here is a pot of Cypripedium Ventricosum with 19 single flowers. It started as a single nose, but I have had this plant for 12 years."