The Trade Mark Frosch®
We have registered a trade mark so that you can recognise "Frosch® Garden Orchids" when shopping from plant catalogues and nurseries. Why?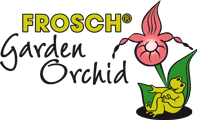 The hybrid Gisela, for example, may be propagated by everybody, whereas Gisela (Frosch®) is bound to come from us. After the plants have been raised from seed there are stronger and weaker, more and less beautiful specimens.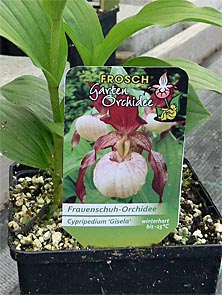 To encourage a much wider enjoyment of these uniquely beautiful plants, we have tried to overcome this problem by the commercial expedient of registering a trade mark to help recognize "Frosch® Garden Orchids" in plant catalogues and nurseries. The mark indicates superior plants: merely "average" rhizomes are not eligible for this sign of quality. We want to satisfy high demands and guarantee your success and delight with the orchids in your garden. You should therefore pay attention to the logo and the trade mark when shopping.
In case you don´t yet know a source of supply, click on Dealers. Other questions (e.g. concerning the proper care) may be posed under Contact/Help.
By the name Frosch® - incidentally German for "frog" - we honour the German pioneer of Cypripedium breeding, Werner Frosch. His vision is our goal: hardy lady´s slippers from experts´ hands for everyone.