Cypripedium Ulla Silkens

50-60 cm

medium-size, June
Ulla Silkens is the most robust of all the hybrids. It is extremely hardy to the effects of climate change because it doesn't start shooting until comparatively late in the year, warm winter spells and late spring frosts will not affect it. Similarly, it tolerates heat and sun in summer much better than other hybrids. It's also relatively insensitive to temporarily wet or dry soil. In short, it is the ideal plant for beginners and for spots where other hardy lady's slippers can no longer thrive!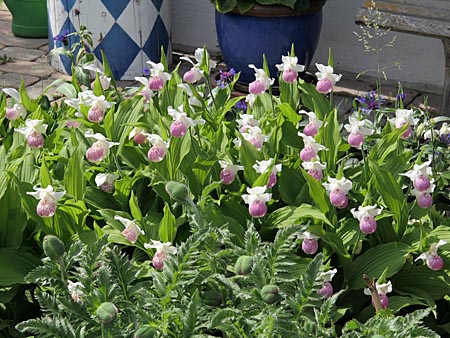 Due to its hairy leaves, Ulla Silkens requires a bit more light than the other cypripediums. It even tolerates direct morning and evening sun. In contrast it won't flourish in deep shade such as beneath shrubs. It will tolerate quite damp soil, for example at the edge of a pond.
Ulla Silkens is the tallest among the listed garden orchids and can grow up to 60 cm (23 in) tall. To reach this size it needs an especially large amount of fertilizer. The flower colouration varies markedly from plant to plant.
In addition, the lip colour changes according to the temperature during the opening of the flower bud. The colour becomes more intense at low temperatures and paler at higher temperatures. You would never think that this is the same plant! Therefore Ulla Silkens will surprise you anew every year.
This cross will complete your festival of lady's slippers in the garden. Next to the other earlier flowering hybrids, Ulla Silkens will extend the flowering season in your borders from May to June.
Information regarding care can be found in our planting instructions.